by John Blanton
This is from the North Texas Skeptics Travel and Amusement section. OK, so there is no Travel and Amusement section, but there should be. Especially the amusement part.
On vacation in Fort Myers, Florida, we met up with some friends and stopped by a crafts fair going on near the river front. Lots of good stuff, including handmade soaps, peanut brittle and the usual fair fare. Plus power bracelets.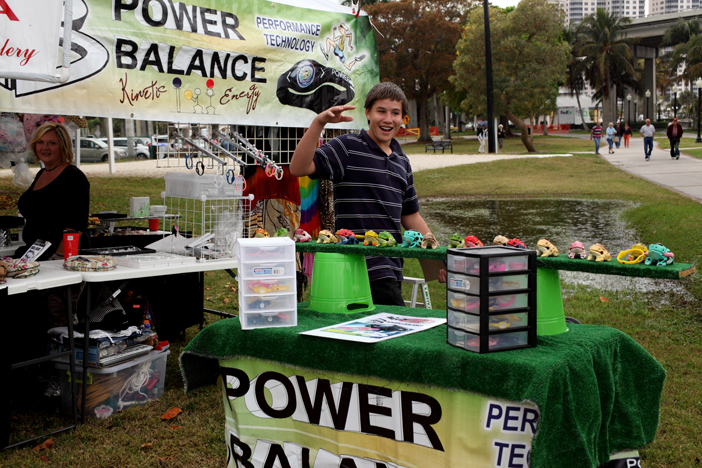 I'm getting old and a bit cynical, and it seems nothing is new to me. So when I saw this booth the entire scenario played out in my mind before it played out in the real world. The following dialog is barely approximate.
"What are you selling?"
"Power bracelets."
"How do they work?"
"I'll give you a demonstration."
He hands me one, and I'm not supposed to put it on, just hold it in my left hand. I have to put my camera down first, lest it be damaged by the power. I am then expected to stand on my left foot only and extend my right arm. He's going to press down on my right hand. Jesus, how far back did I see this coming?
He takes the bracelet (my left hand is now empty) and presses down. No way can I keep from dropping my right arm or else falling down. Then I take the bracelet in my left hand, and he prepares to press down on my right. I swear to Jesus I know exactly what is about to happen.
Sure enough, as soon as he starts to press down I drop my resistance and allow my right hand to be pushed down. He immediately senses I am dropping my resistance, and he immediately quits pushing. My right hand is not supposed to go down while I am holding the bracelet in my left hand. It's his job to see this does not happen.
We go through this charade a couple more times, and I cannot resist a laugh. He is puzzled and becomes even more puzzled when I remark, cryptically, "You have no idea just who you are dealing with." I promised him his picture would be posted on the Internet and went off to join my friends.
I'm telling you, Skeptics, it's out there, it always has been and it always will be. There is just no end to the fun.