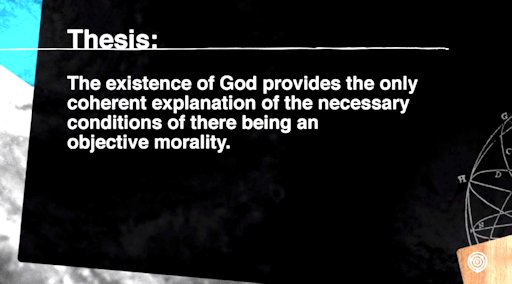 This is the ninth in my review of the video production Does God Exist, brought to you by Focus on the Family, an agency for conservative Christian advocacy. The video is available on DVD from Amazon, and it is currently streaming on Amazon, free with Amazon Prime.
 The previous episode dealt with the return of the God hypothesis. Creationist Stephen C. Meyer argued that public discourse should return to accepting the hypothesis that God is behind everything. In Episode 9 Meyer abandons science altogether and unfolds his inner core argument. Judeo-Christian (Muslim, too) religious dogma is the only right and acceptable basis for human morality. He states this up front. See the screen shot above.
Meyer has formal education in science, a degree in physics and earth science, and he earlier worked down the street from where I used to work, in Plano, Texas. But then he earned a Ph.D. in history and philosophy of science at Cambridge University, and he has been involved in promoting religion since, with little attention paid to actual science. Here he waxes entirely philosophical and theological.
We are treated to the wisdom of that world-renowned thinker Fyodor Dostoyevsky.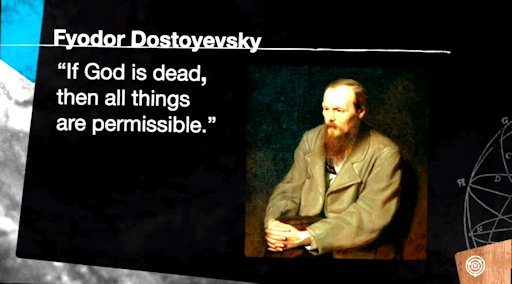 Fyodor Dostoyevsky

"If God is dead, then all things are permissible."
Yes, there is a real question whether we should base our lives on the thoughts of a 19th century writer of fiction.
Meyer illustrates with some sound logical inferences, using well-grounded philosophy.
The presentation foil says:
Is ≠ Ought

Murder hurts people.

Hurting people is wrong.

Therefore, murder is wrong.
The first part I translate to "what exists is what should be." Then comes a statement that responsible members of society will agree to, namely that killing people is bad for the people being killed. Meyer is presenting to some students, and he initially leaves the part about hurting people being wrong and just shows the last part, murder is wrong. He asks students to fill in the blank. A student provides the obvious and missing part: hurting people is wrong. The matter then lands on where we got the part about hurting people is wrong. That's the basis of human morality. We need to figure out what is wrong and what is right. We need to figure out what we ought to do. Meyer is going to argue that this answer cannot come from logic and  reason but must come from theism—from God.
Meyer quotes a number of famous people. Here is one such.
Here's what it has to say:
There Are No Objective Standards of Morality

"Morality … is merely an adaptation put in place to further our reproductive end… In an important sense, ethics as we understand it is an illusion fobbed off on us by our genes to get us to cooperate.

[Attributed to Michael Ruse and E.O. Wilson]
Michael Ruse is a retired professor of philosophy:
Michael Ruse, FRSC (born 21 June 1940) is a philosopher of science who specializes in the philosophy of biology and is well known for his work on the relationship between science and religion, the creation–evolution controversy, and the demarcation problem within science. Ruse currently teaches at Florida State University. He was born in England, attending Bootham School, York. He took his undergraduate degree at the University of Bristol (1962), his master's degree at McMaster University, Hamilton, Ontario (1964), and Ph.D. at the University of Bristol (1970).
Edward Osborne Wilson is a biologist:
Edward Osborne Wilson (born June 10, 1929), usually cited as E. O. Wilson, is an American biologist, researcher, theorist, naturalist and author. His biological specialty is myrmecology, the study of ants, on which he is the world's leading expert.
The statement, attributed to the two of them together, seems brash on the surface, but it contains some embedded logic. There is a view, held by me and by others, that human morality is basic. I start by observing that mothers, with exceptions, do not kill their babies. Else there would be no human race. Further, there would be no human race prior to the rise of Judeo-Christian thinking. Hence, human morality existed at a basic level for a long time without benefit of Judeo-Christian morality. I extend this line of thought to higher levels of ethics and morality.
You don't take other people's stuff, because if you do, then that's going to make them angry, and they're going to come after you, and you are going to spend your time fighting to stay alive, whereas if you left other people's stuff alone, and they left your stuff alone, then everybody would get along and we would all be more productive.
And that's the basis of the Ruse-Wilson argument,  Stephen C. Meyer notwithstanding.
Meyer cites additional examples. Here's famous trial lawyer of 100 years ago, Clarence Darrow. In 1924 Darrow defended two privileged white kids who murdered a young boy in an exercise to demonstrate they were smarter than anybody else.
What Darrow did is what any good defense lawyer does. There was no doubt the boys did it, and a guilty plea was entered. What Darrow did was to successfully argue before the sentencing judge that the boys were shaped by evolution and society and should not be executed for the crime.
Meyer's invoking of the Darrow defense might lend merit to his argument against innate morality, but he steps into a giant cow cookie while invoking Darrow. Specifically:
[Darrow] was sent by the ACLU out to Chicago to defend [Leopold and Loeb].
Absolutely false, and I have to wonder where Meyer got this. The ACLU did not send Darrow to defend two murderers. Leopold and Loeb were from wealthy families, and they did not need a civil rights lawyer to defend them. They could afford the best lawyer in the country, and what happened, according to a biography of Darrow's life, is that the uncle of one of the boys went to Darrow's home and pleaded, promised to pay whatever was demanded, to get Darrow to take the case.
Call me cynical if you wish, but Meyer's reference to  the ACLU appears to be a bit of Intelligent Design. The Intelligent Design folks are not known for stand-up honesty, and the temptation  to suck the ACLU—which has confronted state-sponsored anti-evolution at every step—into the narrative was possibly too tempting to resist. Do I think Meyer and the other creationists were still smarting from the drubbing ACLU lawyers gave Intelligent Design in the Kitzmiller case? Inquiring minds would like to know.
The religious doctrine espoused by conservative thinkers, the Discovery Institute included, leans toward being highly-judgmental. The word on the street is these people recoil when they think somebody is having too much fun. "The Kinsey Reports" refers to two volumes published in 1948 and 1953 and based on interviews with a few thousands of subjects.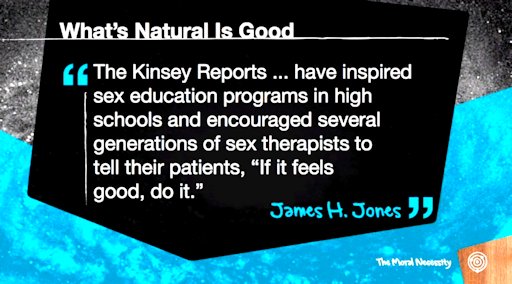 What's Natural is Good

"The Kinsey Reports … have inspired sex education programs in high schools and encouraged several generations of sex therapists to tell their patients, 'If it feels good, do it.' [Attributed to] James H. Jones."
Regarding James H. Jones:
James H. Jones is a Professor of History at the University of Arkansas.

He is the author of Kinsey: A Public/Private Life and [also] Bad Blood: The Tuskegee Syphilis Experiment.
Meyer does not cite a reference for the Jones quote, but assume it is true for the sake of argument. A broad interpretation is that if nobody is harmed, then it is all right to do it. This is something religious fundamentalists seem to have issue with. Call me out on this if I am wrong, but my observation is that many conservatives in this country and elsewhere, in the interest of smaller government, want people to quit having fun wherever there are no consequences attached.
Meyer invokes the United States Constitution, as it is based on religious morality.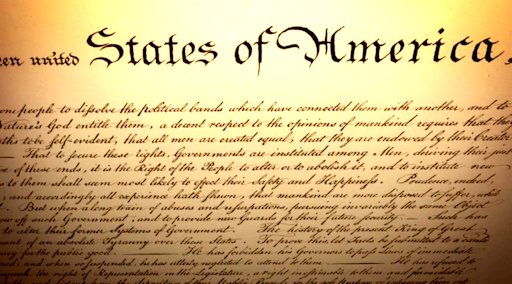 This is possibly a misstep on his part, because the Constitution, as originally adopted, was not steeped in morality and human rights:
Section. 2.

The House of Representatives shall be composed of Members chosen every second Year by the People of the several States, and the Electors in each State shall have the Qualifications requisite for Electors of the most numerous Branch of the State Legislature.

No Person shall be a Representative who shall not have attained to the age of twenty five Years, and been seven Years a Citizen of the United States, and who shall not, when elected, be an Inhabitant of that State in which he shall be chosen.

Representatives and direct Taxes shall be apportioned among the several States which may be included within this Union, according to their respective Numbers, which shall be determined by adding to the whole Number of free Persons, including those bound to Service for a Term of Years, and excluding Indians not taxed, three fifths of all other Persons. The actual Enumeration shall be made within three Years after the first Meeting of the Congress of the United States, and within every subsequent Term of ten Years, in such Manner as they shall by Law direct. The Number of Representatives shall not exceed one for every thirty Thousand, but each State shall have at Least one Representative; and until such enumeration shall be made, the State of New Hampshire shall be entitled to chuse three, Massachusetts eight, Rhode-Island and Providence Plantations one, Connecticut five, New-York six, New Jersey four, Pennsylvania eight, Delaware one, Maryland six, Virginia ten, North Carolina five, South Carolina five, and Georgia three.

When vacancies happen in the Representation from any State, the Executive Authority thereof shall issue Writs of Election to fill such Vacancies.

The House of Representatives shall chuse their Speaker and other Officers; and shall have the sole Power of Impeachment.

[Emphasis added]
Yes, the Constitution, adopted in 1789, had no provision for protecting human rights, and it had text particularly worded to accommodate slavery.
In the video one student is seen bringing up the matter of slavery, and Meyer is quick to respond that that was then, and this is now (my words). Just because somebody else does it wrong, or just because everybody used to do it wrong, that doesn't mean we should not presently be doing it right. He completely glosses over his wrong assertion that the Constitution was inspired by a Judeo-Christian morality.
Once again he invokes David Berlinski. I have to go back to the video to recall what this was about.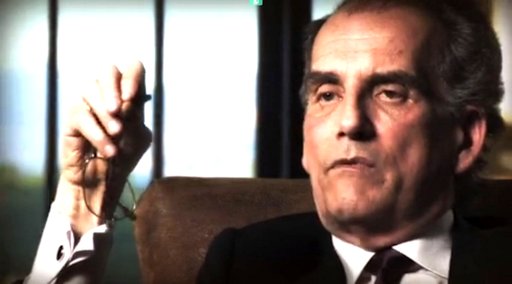 And here it is. Berlinski is seen saying that no system that sought to ensure morality, absent religion, has been successful. Berlinski may have some support here. In a previous century I was acquainted with the late science fiction writer and acknowledged atheist L. Sprague de Camp. At a dinner gathering once he made this observation. We need religion, the fear of God, to make people do right.
While I  can possibly, based on observation, agree with Berlinski and de Camp, I have never found it necessary in my own life to require fear of the supernatural to keep me in line. That observation holds for a large gathering of my atheistic friends and family. On the other hand I note the great number of people being killed in the name of God. God's ways are mysterious, to be sure.
Meyer concludes.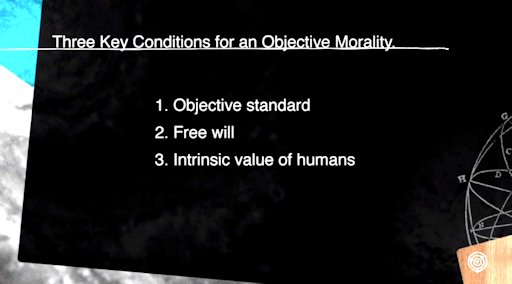 Three Key Conditions for an Objective Morality

Objective standard
Free will
Intrinsic value of humans
I find no fault with that position. How I differ with Meyer is that an imaginary God is not necessary to attain that objective.
This entire episode has been soaked in religion and philosophy, and Meyer's presentation quotes a number of philosophical sources, including Berlinski and Dostoyevsky. And that is supposed to mean a lot. People who know me really well are acquainted with my view of philosophy as a study and philosophers in general. God put philosophers on this planet with an eye toward making used car salesmen look good.
That said, what to make of Meyer's argument, specifically that  we need a God, particularly we need a religion, to obtain  morality? More specifically, people did not come up with morality, cannot come up with morality, on their own. There must have been some supernatural force to inject morality into the human consciousness. It's a proposition that does not pass the Skeptical Analysis test.
First, assuming the God to which Meyer refers is the source of this morality. Surprise! This God is a human invention. People existed many thousands of years before the Abrahamic God was introduced, and people had morality. Doubt me? Take note of this. The famous Ten Commandments existed in various forms prior to the time Moses was supposed to have brought them down from Mount Sinai. From all appearances, the writers of the story of Moses adopted these ideas, and placed them on the stone tablets.
But, let's pretend that God really is the source of our morality. Then what a wonder of morality it is. Examples abound:
Deuteronomy 21:18-21 

King James Version (KJV)

18 If a man have a stubborn and rebellious son, which will not obey the voice of his father, or the voice of his mother, and that, when they have chastened him, will not hearken unto them:

19 Then shall his father and his mother lay hold on him, and bring him out unto the elders of his city, and unto the gate of his place;

20 And they shall say unto the elders of his city, This our son is stubborn and rebellious, he will not obey our voice; he is a glutton, and a drunkard.

21 And all the men of his city shall stone him with stones, that he die: so shalt thou put evil away from among you; and all Israel shall hear, and fear.
Exodus 12:29 

King James Version (KJV)

29 And it came to pass, that at midnight the Lord smote all the firstborn in the land of Egypt, from the firstborn of Pharaoh that sat on his throne unto the firstborn of the captive that was in the dungeon; and all the firstborn of cattle.
Ephesians 6:5 

King James Version (KJV)

5 Servants, be obedient to them that are your masters according to the flesh, with fear and trembling, in singleness of your heart, as unto Christ;
1 Timothy 6:1-2 

King James Version (KJV)

6 Let as many servants as are under the yoke count their own masters worthy of all honour, that the name of God and his doctrine be not blasphemed.

2 And they that have believing masters, let them not despise them, because they are brethren; but rather do them service, because they are faithful and beloved, partakers of the benefit. These things teach and exhort.
And I can go on ad nauseam. And I will if anybody from the Intelligent Design camp wants to challenge that I am picking and choosing from the Bible. Meyer might come back to me and remind me some of these quotes are from the Old Testament, before Jesus forged a more benign morality, but Timothy is New Testament, and the Old Testament is from the God of Abraham, who created the Universe and humankind, and imbued us with basic morality, which we would not otherwise have.
Any distinction between Meyer's presentation and a deceptive propaganda exercise is difficult to discern.
There is one more episode to review, and then there is the promised bonus extra. I should be finished in two more days.
Episode 10 is titled "The Moral Necessity of Theism, Part 2: We Need God." From Amazon:
Dr. Meyer provides overwhelming evidence that the theistic worldview is the only one that can provide a coherent explanation for an objective and meaningful system of morality.
I can hardly wait.