Review of a conspiracy theory video
This is a must see for skeptics keen  on conspiracy theory juice. It's A Conspiracy of Lies: Flight 370 to 911, which came out two years ago. IMDb has a write-up on it, and there are other reviews out there. I'm going to just post some screen shots and a few comments. Here's the opening title, just so you will know you are watching the right one.
This is from Reality Films, produced by J. Michael Long, who also narrates.
You can get where  this is going from the title. Yes, they are going to talk about Malaysian Airlines flight MH370, and they are going to  talk about the 9/11 attacks. Yes, they are going to assert the Twin Towers were brought down by planted demolition charges, and then they are going on to  tell us WTC-7 was demolished by explosives after suffering no structural damage from the attacks.
Lest viewers get the idea all of the stuff in this video is made up, there are some serious issues inserted. For example, the Tuskegee syphilis experiment was real, and it lasted from 1932 to 1972. It involved identifying a group of indigent black men in the rural South who had contracted syphilis. These men were not told they had syphilis, and they were given free medical treatment, but not for syphilis. The aim was to determine the course of the untreated disease in black men.
Yes, there are flying saucers, and aliens from  outer space, and people abducted by aliens, and sexual experiments performed on humans by aliens. Just look at the graphic below.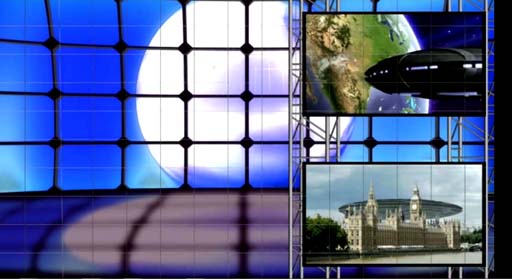 We have, in case you did not already know, alien technology, gleaned from crashed and recovered alien craft made for today's modern wonders. Without this assist, we would not now have such technological marvels as integrated circuits.
Black helicopters! Yes, there must be black helicopters. No conspiracy story is complete without black helicopters. Of course, they don't actually show a black helicopter, because nobody ever gets to see one and live. But they do show shadows of black helicopters. Here is one.
Chemtrails! There needs to be chemtrails. Chemtrails are real. Here are some photos.
Yes, chemtrails are real, and they are mentioned in official documents. Congressman  Dennis Kucinich has sought to have them banned.
But wait. Everybody knows these conspiracy theories about the 9/11 attacks have been well and thoroughly debunked. We have done some of  that ourselves:
Forget about the hapless "tourist guy" of 9/11, the rigged photo of a parka-clad sightseer atop the World Trade Center, with his back toward the oncoming airliner. Forget about the four thousand Jews who didn't show up for work that day. French author Thierry Meyssan spins a yarn that shades both these tall tales. According to Meyssan's book L'Effroyable Imposture (The Frightening Fraud), American Airlines flight 77 did not crash into the Pentagon building. Instead, a crafty plot by the U.S. government employed a truck bomb or a missile strike to further the pretense of the Twin Towers attack.
Producer J. Michael Long's contention  that no piece of MH370 has ever been found turned out to be refuted since his video came out. At least three pieces of wreckage or debris have been recovered, definitely from the doomed craft.
A problem with conspiracy theories is that as additional evidence comes out, the theories tend to become increasingly refuted. On the other hand, the longer a conspiracy theory can exist, the more witnesses die off, and the further from the truth the theories drift.
You can watch this on Amazon Prime Video, but it appears also on YouTube at https://www.youtube.com/watch?v=EOoxMNVgpQ8 by subscribing.