It's back.
Actually, I think it never left. In fact, this outdates that good old American snake oil by centuries. It's Qigong, and it's here to save your life.
I have a number of email accounts, and one of them is devoted to matters skeptical. Here I receive all manner of challenges for the North Texas Skeptics paranormal prize and also a bunch of stuff relating to alternative medicine—AltMed. Qigong (chee gong) is not new to the Skeptics. At the CSICOP conferencewe hosted in 1992 they had a presenter come all the way from China to fill us in. It works like this. From Wikipedia:
The theories of ancient Chinese qigong include the Yin-Yang and Five Phases Theory, Essence–Qi–Spirit Theory, Zang-Xiang Theory, and Meridians and Qi-Blood Theory, which have been synthesized as part of Traditional Chinese Medicine (TCM). TCM focuses on tracing and correcting underlying disharmony, in terms of deficiency and excess, using the complementary and opposing forces of yin and yang (陰陽), to create a balanced flow of qi. Qi is believed to be cultivated and stored in three main dantian energy centers and to travel through the body along twelve main meridians (Jīng Luò 經絡), with numerous smaller branches and tributaries. The main meridians correspond to twelve main organs (Zàng fǔ 臟腑)). Qi is balanced in terms of yin and yang in the context of the traditional system of Five Phases (Wu xing 五行).[13][14] A person is believed to become ill or die when qi becomes diminished or unbalanced. Health is believed to be returned by rebuilding qi, eliminating qi blockages, and correcting qi imbalances. These TCM concepts do not translate readily to modern science and medicine.
The above image is from the site linked in the email I received Saturday. So is this one: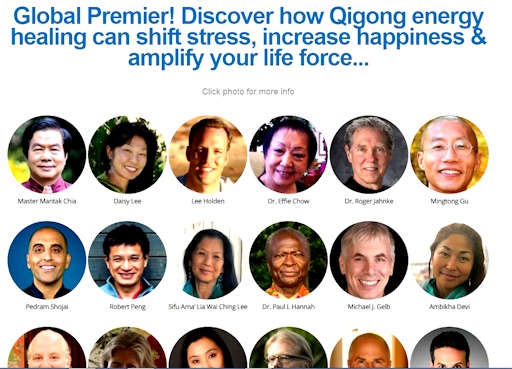 You are going to click on the images of satisfied patients to obtain additional information. Here is what they offer:
Feeling stressed? Having trouble unplugging from your full — sometimes too full! — life?

You might be looking for a simple practice that can help you find more balance… physically, emotionally, mentally, and spiritually.

Or maybe your energy is low, you feel rundown, and you're vulnerable to illness — or you have a chronic condition — and your go-to remedies and practices aren't enough to turn things around.

It's time to take your health into your own hands.

A daily Qigong practice, available to everyone, can immediately lower stress, increase energy, prevent illness, and support you in rejuvenating your body, mind, and spirit.

With Qigong, you can learn to bring healing energy — known as "Qi" — to particular parts of your body to transform anxiety, stress, and disease into self-confidence, inner peace, and optimal health.

As your body responds by doing what it's designed to do (heal and re-balance itself), blockages in your flow of Qi disappear and your full life force energy moves smoothly, radiating out into all aspects of your daily life.

During The Qigong Global Summit, some of the world's foremost Qigong teachers — including Master Mantak Chia, Daisy Lee, Lee Holden, Dr. Effie Chow, Dr. Roger Jahnke, Master Mingtong Gu, Pedram Shojai, Sifu Ama Lia Wai Ching Lee, Robert Peng, and others — will show you simple yet powerful practices to cultivate abundant Qi flow for your health, healing, and daily life.

These Qigong teachers, masters, and doctors in the first-ever Qigong Global Summit will share insights into the practices of Qigong, Tai Chi, Martial Arts, and Traditional Chinese Medicine — as well as how Qi is the foundation of all of these ancient arts, and more.

Through beautiful, high-quality video, they'll illuminate both the philosophical and practical components of working with Qi — and offer simple practices you can use right away.

Our highly esteemed teachers will offer their wisdom on how to discover your inner healing potential, and perspectives on how to flow with the challenges of daily life.
That next to last paragraph is a winner. Qigong is all about managing your qi:
Believers of qi (chee) describe it as a vital energy whose flow must be balanced for health. Qi is a pseudoscientific, unverified concept, which has never been directly observed, and is unrelated to the concept of energy used in science (vital energy is itself an abandoned scientific notion).
I am not an authority on acupuncture, but those knowledgeable tell me it is based on managing your qi:
You may have heard the words "qi" or chi" with regard to acupuncture and alternative medicine. But do you even know how to pronounce it, let alone understand the concept? If you've ever wondered: "What is (qi) chi energy?" then read on. Understanding this important concept will help you better comprehend how Traditional Chinese Medicine and acupuncture work.

The basics of understanding Chi | AMC Acupuncture School Miami

Qi or chi — pronounced "chee" — is the energy flow created along the pathways that connect the acupuncture points on the body. The pathways between the points are called meridians, which also connect to internal organs in the body. Using acupuncture needles, pressure or heat to manipulate a point or two separate points on the body can improve a person's qi — which is also thought of as one's life force — and relieve the symptoms of a variety of medical conditions, including chronic pain, digestive issues, respiratory problems and more. This understanding of the human body comes from Traditional Chinese Medicine, which is thousands of years old. It's a different way of thinking about how the body works than conventional Western medicine.
I was thankful to receive this particular piece of mail. It reminded me that foolishness is not not a modern invention. It is a human tradition that stretches back to the time when ignorance was an excuse.
Coming next: feng shui. I guarantee, you're going to love it.