A review of the video Remote Viewing.
I'm going to recommend all skeptics watch this. It dates from 2009 and is only 20 minutes. I was able to watch it for free on Amazon Prime Video. Of course you have to have an Amazon Prime subscription, however you can watch it on YouTube by paying $1.99. Call it $2.00. Here's the link: https://www.youtube.com/watch?v=0rlgcSCLzaA
You're going to see some people you recognize, so I will start out with a cast of characters: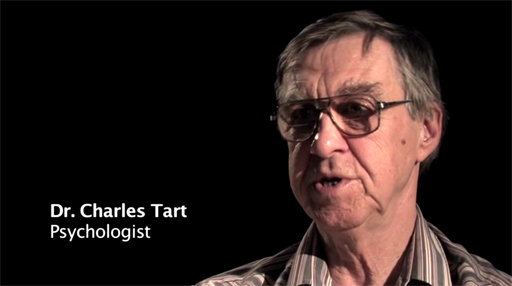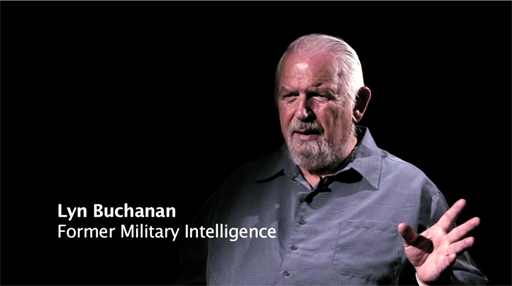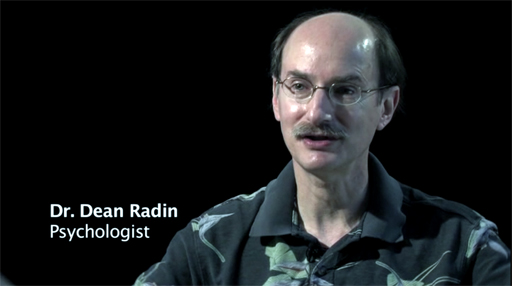 Charles Tart you are going to know for sure. He's been familiar to the NTS for decades:
Charles Tart was a "parapsychologist" doing research at the University of California at Davis. He used a machine called a "Ten-Choice Trainer" (TCT) to help people with psychic ability improve their scores on tests for same. The test worked like this:

A sender in one room viewed a panel with ten playing cards, ace through ten. A randomizing mechanism would select one of the ten cards and would activate a light next to the card. The sender would then push a button, causing a signal to be sent to the receiver. This told the receiver that the sender was now looking at the selected card. The receiver would then turn a dial to select the correct card. The dial position was fed back to the sender in real time, allowing the sender to mentally direct the receiver to the correct card. Finally the receiver would select a card by pushing a button next to the card. If the receiver's choice was correct, a chime would sound. This would provide positive reinforcement and would help the receiver to learn and to sharpen his extrasensory perception (ESP) skills.

Tart wrote a book describing his work, Learning to Use Extrasensory Perception, published by Chicago Press in 1976. In the book he claimed scores considerably better than could be expected by chance. He heralded his results a "breakthrough" in ESP research.

Came time for Gardner to review the book in 1977 for NYR, and he, as was his practice, went beyond checking for spelling and grammar. As Gardner reports, three of Tart's colleagues at UC Davis wrote a critique of Tart's experimental method. They had read Tart's book and asked to see the raw data. Reviewing the data they realized, for one, the randomizer was not exactly random. They likened Tart's protocol to a chemist using a dirty test tube and obtaining anomalous results, and they suggested that Tart repeat his experiments after fixing the problem of the non-random random number device.

Gardner saw an additional flaw in Tart's technique. If the sender, subconsciously or deliberately, delayed sending his signal to the receiver, the receiver might pick up on this idiosyncrasy, and this could become a signaling path from the sender to the receiver. The receiver could pick cards depending on the amount of delay and could improve his score above chance.

Gardner also points out a finding by the mathematicians who examined the data. There is an unexplained absence of doublets. Not so many 2, 2 and 7, 7 sequences, for example, as one should expect. The TCT recorded only the receiver's score, not the entire sequence of random numbers. This led to the possibility that the sender was hitting the send button a second time whenever the new number was the same as the previous number. The receiver could significantly increase his score by never choosing the same card twice in a row.

Wait, there's more. The sender and receiver were in nearby office cubicles, and one sender, Gaines Thomas, revealed he would sometimes orally coax his own display of the receiver's actions as he monitored them on his display. He would curse when the sender appeared about to stop on the wrong card. Whether the receiver was ever cued by these sounds coming from the sender's cube is not known.

In response to the criticism, Tart revised his technique and repeated his experiments. He published his results as "Effects of Immediate Feedback on ESP Performance: A Second Study" in the Journal of the American Society for Psychical Research.1 Gardner tellingly quotes a significant statement in the paper: "There is no evidence that more percipients scored significantly above chance than would be expected if no ESP were operating."

Rather than admit the initial results were due to his own faulty technique, Tart, as Gardner reports, attempted to explain away this lack of success. Principally, there was a lack of ESP talent for the follow-up experiment. "In the last year or two, students have become more serious, more competitive, more achievement-oriented than they were at the time of the first experiment." And more.

Tart asserted the results of the first experiment were so significant they could not be ignored. As Gardner comments, Tart could not reconcile that the first experiment demonstrated his failure as a scientist. Rather, his earlier results put the results of the second experiment into doubt. Gardner, and the reader, are dumfounded at the audacity. Not speaking for Gardner, I would add I am not in the least surprised by Tart's reasoning.
The information I have on Lyn Buchanan may be stale:
Leonard (Lyn) Buchanan is the Executive Director of Problems>Solutions>Innovations(P>S>I) which started as a small data analysis company in the Washington, D.C. area in 1992 after Lyn's retirement from the military.

In late 1995, when the US government declassified their Remote Viewing project, information became public about Lyn's prior involvement with that project as one of the unit's Remote Viewers, Database Manager, Property Book Officer and as the unit's Trainer. Public demands for training and applications became great, and P>S>I moved into the remote viewing field full time, bringing with it Lyn's extensive databasing capabilities. At the present time, P>S>I possesses the most complete body of data on the applications of remote viewing in real-world applications.
The world's foremost remote viewing teacher, and creator of Technical Remote Viewing, Major Edward A. Dames, United States Army (ret.), is a thrice decorated military intelligence officer and an original member of the U.S. Army prototype remote viewing training program. He served as both training and operations officer for the U.S. government's TOP SECRET psychic espionage unit.

Edward Dames is a ROTC Distinguished Military Graduate of the University of California, Berkeley. Between 1979 and 1983, Major Dames served as an electronic warfare officer and scientific and technical intelligence officer.

In 1982, Ingo Swann, under the direction of Dr. Harold Puthoff, head of the Remote Viewing Laboratory at Stanford Research Institute, realized a breakthrough. Swann developed a working model for how the unconscious mind communicates information to conscious awareness. To test the model, the Army sent Major Dames and five others to Swann as a prototype trainee group.

The results exceeded all expectations – even those of Swann. In six months, Major Dames' teammates were producing psychically-derived data with more consistency and accuracy than had ever been seen in similar intelligence projects using even the best 'natural' psychics. In late 1983, the team parted company with Swann. As the new operations and training officer for the unit, Dames took this breakthrough skill, dubbed 'Coordinate Remote Viewing,' and began a new phase of research, testing, and evaluation in order to both uncover its true capabilities, and to perfect its application to fit crucial intelligence collection needs.
Dean Radin, PhD, is Chief Scientist at the INSTITUTE OF NOETIC SCIENCES (IONS) and since 2001 has periodically lectured at Sonoma State University and served on doctoral dissertation committees at Saybrook University and the California Institute for Integral Studies. His original career track as a concert violinist shifted into science after earning a BSEE degree in electrical engineering, magna cum laude with honors in physics, from the University of Massachusetts, Amherst, and then an MS in electrical engineering and a PhD in psychology from the University of Illinois, Urbana-Champaign. For a decade he worked on advanced telecommunications R&D at AT&T Bell Laboratories and GTE Laboratories. For three decades he has been engaged in frontiers research on the nature of consciousness. Before joining the research staff at IONS in 2001, he held appointments at Princeton University, University of Edinburgh, University of Nevada, Interval Research Corporation, and SRI International.

He is author or coauthor of over 250 peer-reviewed scientific and popular articles, three dozen book chapters, and three popular books including the award-winning and bestselling The Conscious Universe (HarperOne, 1997), Entangled Minds(Simon & Schuster, 2006), and a 2014 Silver Nautilus Book Award, SUPERNORMAL (Random House, 2013). These books have been translated into 14 foreign languages, so far. His technical articles have appeared in journals ranging fromFoundations of Physics and Physics Essays to Psychological Bulletin and Journal of Consciousness Studies; he was featured in a New York Times Magazine ARTICLE; and he has appeared on dozens of television shows ranging from the BBC'sHorizon and PBS's Closer to Truth to Oprah and Larry King Live. He has given over 350 interviews and talks, including invited presentations at Harvard, Stanford, Cambridge, Princeton, and the Sorbonne, for industries including GOOGLE and Johnson & Johnson, and for various US government organizations including the US Navy and DARPA.
Jessica Utts (born 1952) is a parapsychologist and statistics professor at the University of California, Irvine. She is known for her textbooks on statistics and her investigation into remote viewing.

In 2003, Utts published an article in American Statistician, a journal published by the American Statistical Association, calling for significant changes to collegiate levelstatistics education.[3] In the article she argued that curricula do a fine job of covering the mathematical side of statistics, but do a poor job of teaching students the skills necessary to properly interpret statistical results in scientific studies. The argument continues that common errors found in news articles, such as the common misinterpretation that correlative studies show causation, would be reduced if there were significant changes made to standard statistics courses.

Utts was elected to serve as the 111th president of the American Statistical Association, with her term as President-Elect to commence in January 2015, followed by her term as president in 2016.
Up front be prepared to be impressed by the power of the mind and the remarkable phenomenon known as remote viewing. Lyn Buchanan asks, "Do you want the party line history, or do you want the real history?" Of course, we want the real history. And it is remarkable.
Being able to pinpoint a target anywhere on the globe within 35 feet. Locate terrorists, their hostages… We've been finding information that saved lives.
Folks, this is good stuff.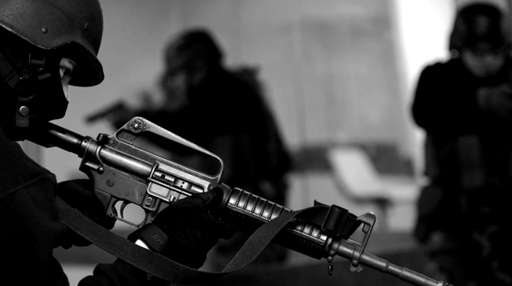 It was necessary for our government to engage in this research, because the Soviets were making great strides. They may have possessed the ability to beam some sort of energy at President Reagan during his participation in the SALT negotiations, thereby clouding his mind and putting the United States at a disadvantage.
Stop for a moment at this thought. There are many of the opinion that President Reagan's mind did not require additional clouding, but that's beside the point. We were concerned the Soviets were taking the lead.
This is not woo-woo stuff. The video shows actual hardware. We see what may be two large electrolytic capacitors, and if you have ever dealt with those, you know how dangerous they can be, what with their ability to store large amounts of electric charge at high voltage.
Proof of the ability of the human mind to work miracles is also demonstrated. Here are two shots from the video in sequence. Please observe the salt shaker has definitely moved.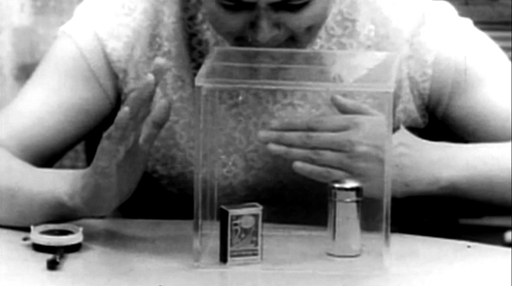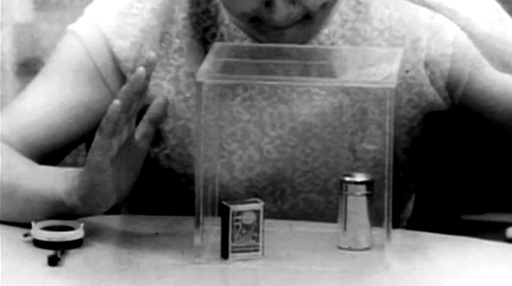 Additional benefit was derived from this research when participants were asked to review satellite imagery from a site in Siberia. The remote viewer said there was a very large shed there, and the Soviets were building a huge submarine vessel. Officials scoffed until such day as the end of the shed was opened and the submarine was rolled out. The Soviets thereupon constructed a canal and floated the boat to the "North Sea." I regret that my search of the Internet has failed to learn anything regarding a large Soviet submarine constructed in Siberia. I'm also having difficulty with this geography, because my impression has always been that no part of the North Sea touches Siberia.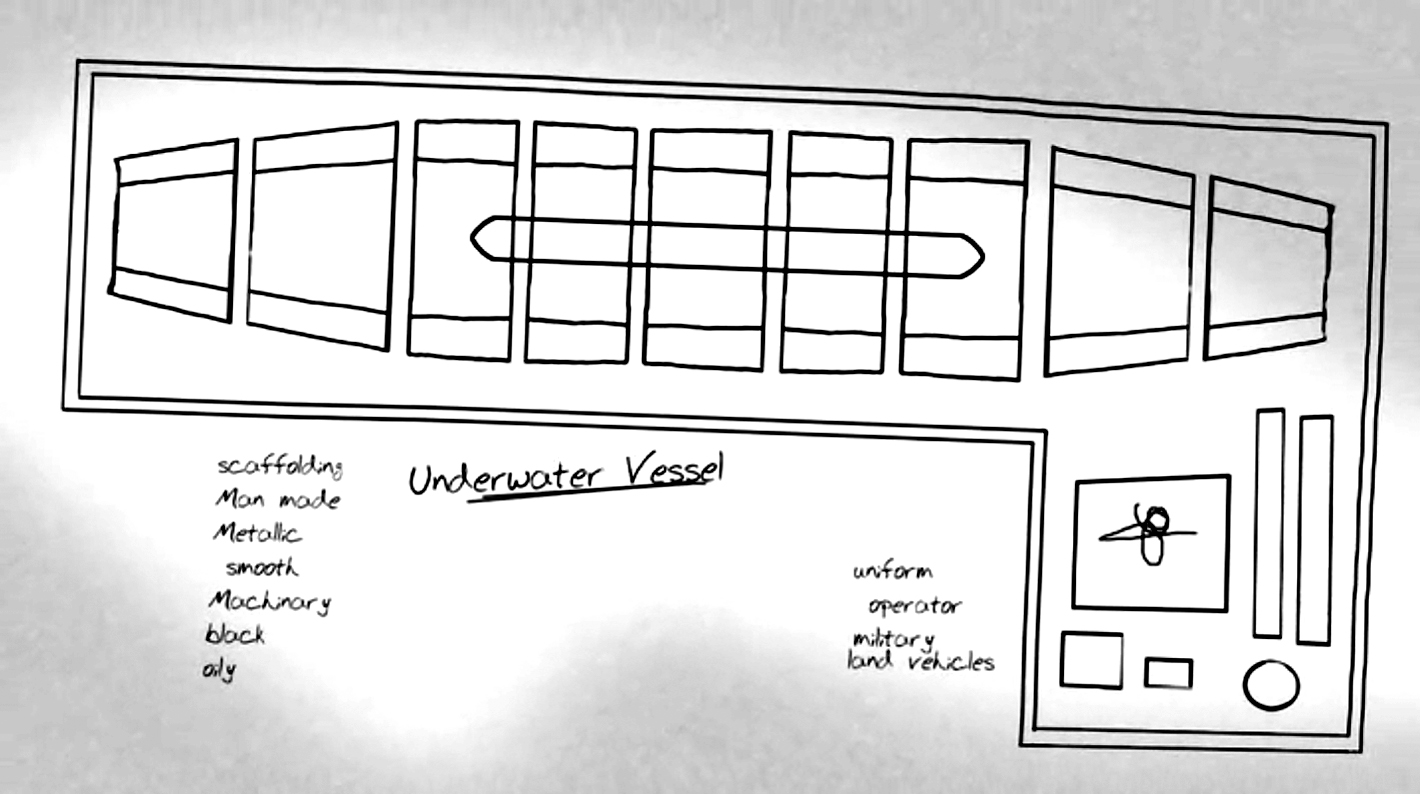 There have been scoffers. A book by Jon Ronson, The Men Who Stare at Goats, pokes fun at this kind of nonsense. That was in 2004. A subsequent film came out in 2009, staring George Clooney.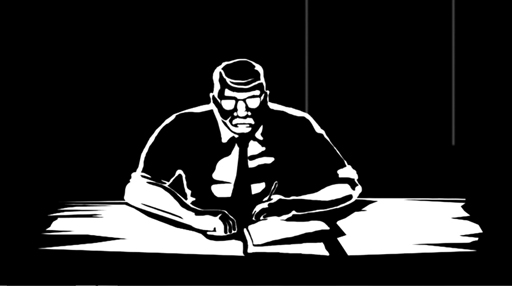 And all that is just a preamble to the real substance: What is the truth behind remote viewing and the research that purports to support it? Some discussion: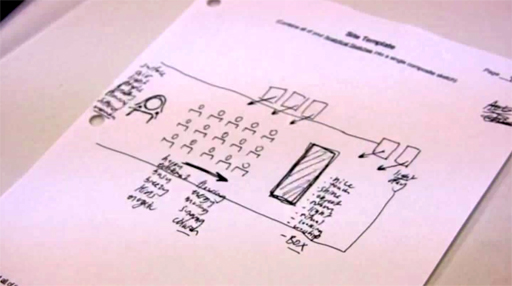 Start with the ganzfeld effect:
The ganzfeld effect (from German for "complete field") or perceptual deprivation, is a phenomenon of perception caused by exposure to an unstructured, uniform stimulation field.[1] The effect is the result of the brain amplifying neural noise in order to look for the missing visual signals.[2] The noise is interpreted in the highervisual cortex, and gives rise to hallucinations.[3]

It has been most studied with vision by staring at an undifferentiated and uniform field of colour. The visual effect is described as the loss of vision as the brain cuts off the unchanging signal from the eyes. The result is "seeing black",[4] an apparent sense of blindness. A flickering ganzfeld causes geometrical patterns and colors to appear, and this is the working principle for mind machines and the Dreamachine.[5] The ganzfeld effect can also elicit hallucinatory percepts in many people, in addition to an altered state of consciousness.

Ganzfeld induction in multiple senses is called multi-modal ganzfeld. This is usually done by wearing ganzfeld goggles in addition to headphones with a uniform stimulus.

A related effect is sensory deprivation, although in this case a stimulus is minimized rather than unstructured. Hallucinations that appear under prolonged sensory deprivation are similar to elementary percepts caused by luminous ganzfeld, and include transient sensations of light flashes or colours. Hallucinations caused by sensory deprivation can, like ganzfeld-induced hallucinations, turn into complex scenes.[5]

The effect is a component of a Ganzfeld experiment, a technique used in the field of parapsychology.
Remote viewing is often associated with the ganzfeld effect. The viewer is subjected to sensory deprivation, typically by having halves of ping-pong balls taped over his eyes to completely obscure vision without blocking ambient light. White noise is played into headphones the subject wears.
Next, an agent goes to a remote place and at a specified time views the surroundings. And takes a photo. The subject—the viewer—is then asked to make a drawing of what the agent sees. Next, an independent referee is shown photos of what the remote agent saw and compares these photos with what the viewer drew. Also shown are photos from disparate scenes. The referee is required to pick the photo what most closely resembles what the viewer drew.
While some experimenters have claimed remarkable success, my own observation of these experiments leaves me unsatisfied. A healthy degree of rigor seems to be lacking. We at the North Texas Skeptics have engaged in what we consider to be more controlled studies, one of which was related to our Paranormal Challenge.
A few years back Rechey Davidson contacted us:
Thanks for your response. Sorry for having a "bad" subject line. I was just told to contact you. Mr. Kramer has my application and letter of explanation of what ability I have. His letter said the application was accepted for preliminary testing. His letter seemed to indicate he was forwarding you the necessary information. Am I just needed to contact you to arrange for testing. What is the next step now? Do we meet or what? From the Challenge Instructions, it sounds like you want me to resubmit my description to you. If so, do I just e-mail you or mail you a letter? Do I tell you what I can do and you draft something back?

Briefly, I have been able to dowse maps of people's homes (Or other locations) where they have lost specific items and have been able to tell them where the item is. They have, so far, been able to verify they found the item where I said it was. This has happened even if I have never been to their home. Do I just need to submit more detail and suggest how to test this or what? Thanks. Rechey Davidson
This is not exactly remote viewing, but it illustrates the methods we employ:
I scanned in the builder's floor plan for my house and labeled the major rooms with capital letters. I sent Mr. Davidson a link to the scanned image, and he printed it out. He said he was satisfied with that, and we got started.

The object of our affection was my Nikon digital camera. I chose that because I only have one like it, so Mr. Davidson would not have the problem of dowsing for one of several identical objects.

We got started in early September and finished up two weeks later. Each day or so Mr. Davidson would send me an e-mail telling me in which room the camera was placed, and I would record his score and move, or not move, the camera to a different room. Here is the result:

Test 01: 7 September 2004, Camera placed in B, Davidson called E
Test 02: 8 September 2004, Camera placed in A, Davidson called G
Test 03: 13 September 2004, Camera placed in D, Davidson called L
Test 04: 14 September 2004, Camera placed in D, Davidson called F
Test 05: 15 September 2004, Camera placed in F, Davidson called H
Test 06: 16 September 2004, Camera placed in J, Davidson called E
Test 07: 17 September 2004, Camera placed in G, Davidson called B
Test 08: 18 September 2004, Camera placed in A, Davidson called B
Test 09: 18 September 2004, Camera placed in F, Davidson called E
Test 10: 18 September 2004, Camera placed in E, Davidson called J
Test 11: 19 September 2004, Camera placed in E, Davidson called B
Test 12: 20 September 2004, Camera placed in E, Davidson called D
We all found it remarkable, but not impossible, that Mr. Davidson scored absolutely zero in twelve trials.
I have long considered how we would do a remote viewing experiment. It would go something like this:
Start off as before, sensory deprivation or whatever the remote viewer claims to require. The onus is on the remote viewer to perform.
Completely isolate the remote viewer from the remote agent. The agent is expected to be at a site of his choosing, unknown to anybody else conducting the experiment, at a given time.
At the given time a phone call verifies the agent is at the site, and is taking the photo.
The remote viewer is told to visualize what the agent sees and to make the drawing.
The agent produces additional photos of disparate sites.
The agent brings a collection of images, five or more, back to the location of the experiment. The photos are given to a referee with no evidence of when the photos were taken. The referee is given the drawing.
The referee must pick exactly one of the photos that best matches the drawing. All other photos are discarded.
If the chosen photo is not the one associated with the drawing, the test results are determined to be negative. There is no second guessing.
This latter point is something I find missing in descriptions of remote viewing experiments that show positive results. There is typically such language as, "This one was my second choice, and it's the one taken when the viewer had the vision." Or, "The referee chose this one, but it also resembles this one." It's this kind of stuff that points out the bad experimental procedure associated with remote viewing research.
The Jon Ronson book would make for a good review. I will obtain a copy and do a review. Watch for it in the next few months. The movie, as well.