The NCSE is the premier organization in this country promoting legitimate science in public schools and in the public forum. They are a 501 (c) (3) organization, deserving of your contributions. I give money to the NCSE. You should, too.
Following is a recent notice from the NCSE:
1904 Franklin Street, Suite 600 Oakland, CA 94612-2922
510.601.7203 • www.ncse.com
With the unprecedented 2016 election finally behind us, we can all turn our attention back to issues that haven't been in the spotlight lately. Like science education. As you'll read below, there's plenty to be concerned about. But NCSE has not taken its eye off the ball, and our new programs are really starting to pay off. I hope that you'll consider joining our effort to help teachers cover evolution and climate change confidently and completely.
When you consider the state of science education today, it's easy to be disappointed, disturbed, and dismayed. Consider the following recent incidents.
In Alabama, the state board of education voted to continue to mandate a disclaimer about evolution in the state's textbooks. Such disclaimers date back to 1996. But even after Alabama adopted a new set of state science standards in 2005, that described evolution as "substantiated with much direct and indirect evidence," the board disappointingly voted to retain the scientifically unwarranted and pedagogically irresponsible message.
A national survey conducted by NCSE with researchers at Pennsylvania State University, which asked 1500 science teachers in public middle and high schools about their attitudes toward and practice in teaching climate change, found disturbing gaps in their knowledge. For example, less than half of the teachers realized that more than 80% of climate scientists agree that recent global warming is caused primarily by human activities.
In Kentucky, a young-earth creationist ministry opened a Noah's-ark-themed amusement park. The truly  dismaying aspect of Answers in Genesis Ark Encounter was its invitation to local public schools to flout the principle of church/state separation by bringing students there on field trips, at a special discounted rate. Judging from reports received by NCSE over the years, public school excursions to creationist attractions are dismayingly common.
Dealing, and helping people to deal, with such assaults on science education is all in a day's work for us at NCSE.
But as you know, that's not all that we're doing. A suite of innovative new programs is aimed at reinforcing the confidence of teachers, recruiting scientists to help, and rallying communities to support science education locally:
NCSEteach (http://ncseteach.com/), NCSE's network to support climate change and evolution educators, now includes nearly 6,000 teachers, each of whom receive regular advice and resources from NCSE aimed at improving their scientific knowledge and pedagogical confidence. And they now know that NCSE will have their backs when they encounter challenges to the teaching of evolution or climate change!
NCSEteach's "Scientists in the Classroom" program is bringing eager and energetic early career research scientists into middle and high school classrooms across the country to enrich students' climate change and evolution learning experiences. Over one hundred teacher—scientist partnerships have already been formed, to the great and continuing benefit of all involved. More are in the works.
NCSE's Science Booster Club project, piloting in Iowa, has provided fun, hands-on, and accurate educational activities on evolution and climate change to over 50,000 participants at local events in the last year, and raised funds to purchase science equipment for the benefit of over 3,000 local students. In 2016, the project not only exhibited at county and state fairs but also hosted a free summer science camp to provide rural low-income students with evolution education.
Are these programs working? Judging from the heartfelt expressions of thanks from teachers who have participated in NCSEteach, from teacher/scientist partners who have participated in Scientists in the Classroom, and from thousands of Iowans involved with a Science Booster Club, yes!
But to science fans like you and me, what's even more convincing than testimonials is data. The Science Booster Club in Cedar Rapids, Iowa, administered a twenty-four-question science literacy survey at its public events throughout the year. And voilà: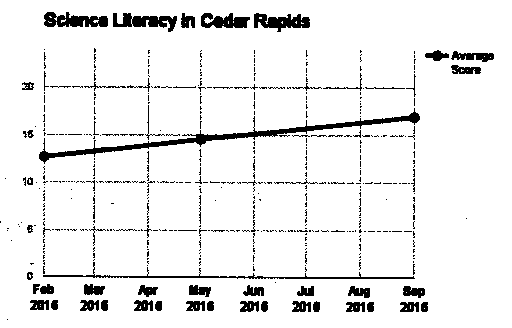 That's significant—literally (p = 0.03) and figuratively. Working with a low budget but a high degree of enthusiasm, the science boosters in Cedar Rapids—and elsewhere in Iowa—are making a measurable difference.
I'm excited about these efforts, and I hope that you are, too. We want to extend these programs to communities across the country. To do so, we need your support. Your gift to NCSE will help us help teachers to present science properly.
You can donate on-line at ncse.com/join. A gift of only $500 will allow us to provide a new booster club with all the materials needed to provide hands-on evolution or climate change activities to 10,000 participants! Or consider a recurring gift of $10 or $20 per month; such donations help make our budget more predictable so we can start new projects with confidence. A gift of any size will go directly to improving science education.
By reinforcing the confidence of teachers, recruiting scientists to help, and rallying communities to support science education locally, NCSE is helping to ensure that science will be taught honestly, accurately, and confidently. Please help us to do so.
Sincerely yours,
Ann Reid
Executive Director, NCSE