First of a series
Last year we ditched the cable and bought into a couple of subscription streaming services. So, come Sunday , and it was promising to be a dull morning. I turned to Amazon Prime Video and browsed some stuff Barbara Jean had earmarked. Wow. Does God Exist? Yes, it's there, and what a wonderful way it is to brighten up an otherwise dull Sunday morning.
Of course I needed to watch. Here it is.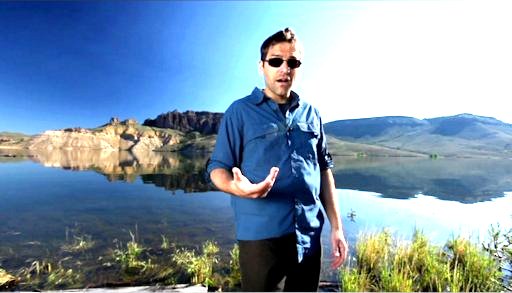 So I see that guy, and he's asking the question, "Does God exist?" And he further asks, "Is the Bible really the word of God?" Also, "Was Jesus really the son of God?" These questions, I expect, will be answered. But one question that needs to be answered first is, "Who is that person asking those questions?"
Christians in Cinema: Dave Stotts

After attending Abilene Christian University in the Texas Panhandle, Dave Stotts hopped around a few more places before settling down in the Dallas Metroplex area. Married to Rebekah and the father of 2 sons (Seth and Luke), his time is divided between video post-production, theological studies and making history alive and entertaining.

When asked about his favorite restaurant, he immediately named "Mi Cocina," which specializes in Tex-Mex cuisine (a man after my own heart!). A fan of science fiction epics (X-men, Superman, Star Wars) married to someone who doesn't really care for them, Dave often watches his favorites with headphones. He's even been known to impersonate Darth Vader for his youngest son "Luke, I'm your father". I talked with Dave on a busy Thursday morning between video projects.
Then we get to the meat of the matter, and we see, as before, creationists Stephen C. Meyer. And it is good to see Dr. Meyer once more, even if this is not a recent production. My hope is he will be touching on a favorite topic of mine, namely Information and Myth:
Having nothing better to do, I was watching this on-line video. And the guy was making some statements about matter and information and energy, and, being composed of these things and having studied them in college, I was a little amazed at what the guy was saying. Time for a Slim Pickens movie quote here.1

The speaker was creationist Stephen C. Meyer, and that was no surprise. Meyer has just published his latest creationist book, and having nothing better to do, I ordered a copy from Amazon.com. Here is what Amazon has to say about the author:

Dr. Stephen C. Meyer received his Ph.D. from the University of Cambridge in the philosophy of science. A former geophysicist and college professor, he now directs the Center for Science and Culture at the Discovery Institute in Seattle.2

Much is promised for this book. It's supposed to set us straight about the basis for Intelligent Design and to make the case, using the story of DNA, for Intelligent Design. Once again, I will let Amazon do the talking:
That's what I had to say eight years ago.
This seems to be a new setting. It is from all appearances a college classroom, and Meyer is going to address the question of whether God exists, and we can guess what the answer will be.
First off, I was unable to escape the notion this was dramatized. It gives the appearance of classroom instruction viewed live, but the use of multiple camera angles and the timing of the actions makes me doubt this could have been pulled off live. Live does not go this smoothly. There are times, when the camera angle shifts, that I would expect to see the camera that shot the previous view, and I do not. Let's assume this is an informal, staged production. Also, in case you were not aware, this is a production of Focus on the Family:
Focus on the Family (FOTF or FotF) is an American Christian conservative organization founded in 1977 in Southern California by psychologistJames Dobson, based in Colorado Springs, Colorado. It is active in promoting an interdenominational effort toward its socially conservative views on public policy. Focus on the Family is one of a number of evangelical parachurch organizations that rose to prominence in the 1980s.

Focus on the Family's stated mission is "nurturing and defending the God-ordained institution of the family and promoting biblical truths worldwide". It promotes abstinence-only sexual education; creationism; adoption by married, opposite-sex parents; school prayer; and traditional gender roles. It opposes abortion; divorce; gambling; LGBT rights, particularly LGBT adoption and same-sex marriage; pornography; pre-marital sex; and substance abuse. Psychologists, psychiatrists, and social scientists have criticized Focus on the Family for trying to misrepresent their research to bolster FOTF's fundamentalist political agenda and ideology.
We can tell up front there's going to be a lot of solid science coming out of this.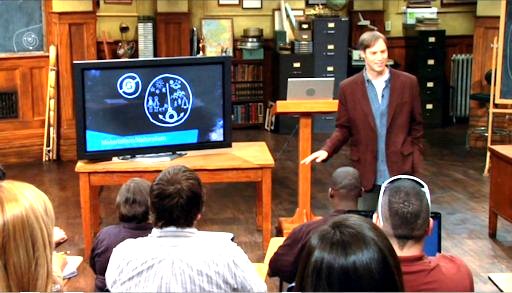 There are ten episodes in the series plus a bonus, and the first is "Faith and Reason," and Meyer gets into the meaning of faith, and hopefully why religious faith is not all that bad. For this kind of presentation, Meyer is an excellent choice. He is a polished presenter, and his formal training in philosophy of science provides the very material he needs for background. He can argue from an academically-grounded knowledge base.
That background, as I learned a few years back, is no inoculation against foolish thought. Robert Koons was then and still is a professor of philosophy at the University of Texas at Austin, where I once attended and obtained a degree. He came up to give a talk at UT Dallas in 2004, and I was there with a fellow skeptic to take it in:
All this got me to thinking, and when there was an opportunity to pose a question I asked just what it would take to be convincing. Passing by the bacterial flagellum for the time being, I brought up Behe's example of human blood clotting chemistry (because that appears to me to be the bigger of these two cow cookies for Behe).4 I asked whether demonstrating feasible pathways to the present human clotting chemistry would sufficiently refute Behe's whole argument for irreducible complexity.

To recapitulate, human blood clotting chemistry is quite complex (what isn't in biochemistry). When a blood vessel is opened, an elaborate chain—a cascade—of chemical reactions is set into motion. If any step in the chain is missing, or is inadequate for the job, blood clots form prematurely, or we bleed excessively, even to death. Think hemophilia. How could that assemblage of chemical reactions have come about by mutation combined with natural selection? No single mutation, subsequently fixed through natural selection, could have produced all of the required steps simultaneously. If any of our ancestors lacked even one of the steps, we would not be reading this skeptical rag.

Knowing that biologists have a good lead on possible pathways and an effective refutation of Behe's blood chemistry argument, I asked how many of Behe's examples need to be explained before irreducible complexity is dead.

Not just one, Koons surmised. One example does not make for solid proof.
What Koons ending up saying is that creationists could pose a large number of examples of supposed irreducible complexity, and biologist would need to refute a slew of these before we should bring the concept into question. My experience, as I noted back then, is that in science and in academia you can expect to present two or at most three ridiculous arguments before you lose credibility. Koons seemed at the time vacant on this point.
But what of Meyer's presentation on this day, apparently about 2009?
At one point he gets to the causality argument, and he states the misconception that cause and effect are essential to the working of the Universe. As is often pointed out, this is not the case. From all appearances and from all known experience, cause and effect are not essential. At the base of physical science, events happen without a cause. Not a big deal, but certainly not in line with Meyer's train of thought.
That brings us to Meyer's central argument in Episode 1. We know the effect. We see it all around us. We see birds, we feel the wind. There are stars and planets, and people and love and happiness (my wording). What is the cause? Is it blind physics? He is going to argue no. Eventually he is going to postulate that God is the best explanation—the best and ultimate cause. Here God is the capital G in the middle of his blackboard.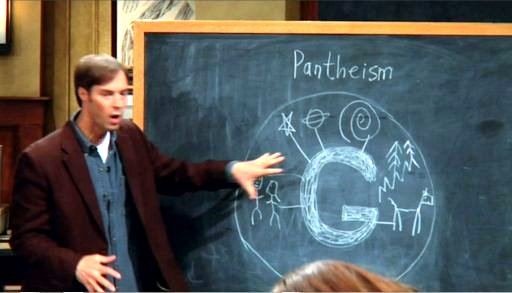 And Meyer's argument is the proper inference is a being of some sort manifesting intelligence and passion. The problem with this is–pause for a moment–what we call intelligence and passion are human qualities. He, and others in the Intelligent Design movement, are taking these and other human qualities and creating a God that possesses these and in turn creates beings, ourselves, that have these properties. The argument is unquestionably circular.
I will state, as I have before, that if there were a being, such as the proposed God, and this being were all-knowing and all-powerful (omniscient and omnipotent), then what would would this God do? Create a Universe? Create a planet and populate it with beings possessing intelligence and passion? Why? The motivation to create, even if to experiment, is a quality found in living things on this planet. And that includes us. We have those qualities because they are essential to survival. Such need would not exist for an omniscient and omnipotent being. If there is Intelligent Design, then we are not the product. We are the designer.
Episode 2 is going to be "The Big Bang Cosmology: The Finite Universe." I'm thinking that's going to  be  more interesting, and I will post a review later this week. These are short, around 30 minutes, so they pose little challenge to my attention span.
Here is a link to a promo on YouTube: https://www.youtube.com/watch?v=0S-5GdCPp7c
Hey! If you're not an Amazon Prime subscriber you can purchase the DVD set on Amazon.
www.amazon.com/TrueU-01-Building-Scientific-Discussion/dp/B00UTUDIT6/