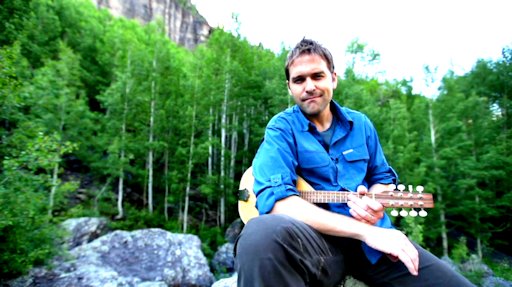 This is the fourth of my reviews of the Focus on the Family video featuring creationist Stephen C. Meyer. It's a DVD set available on Amazon and titled Does God Exist? Episode 4 is titled "The Big Bang Cosmology, Part 3: A Finely Tuned Universe," and it recapitulates, after a fashion, a book, and subsequently a video, by creationists Guillermo Gonzalez and Jay Wesley Richards. These carry the title The Privileged Planet, and the theme is that Earth, this planet, is so privileged, with everything set just right, for human life to exist, yeah, even any kind of life to  exist. The argument is extended to the entire Universe, which two terms being redundant. That theme is voiced in the opening scene (above) as David Stotts exhibits a string instrument and talks about fine tuning.
As before, this is a classroom setting, where Stephen C. Meyer is lecturing an assembly of students on why we should accept Intelligent Design over naturalistic explanations for life on Earth and for the Universe, as well. Meyer is
an advocate of the pseudoscientific principle of intelligent design. He helped found the Center for Science and Culture (CSC) of the Discovery Institute (DI), which is the main organization behind the intelligent design movement. Before joining the DI, Meyer was a professor at Whitworth College. Meyer is currently a Senior Fellow of the DI and Director of its Center for Science and Culture (CSC).
He makes ample use of presentation foils, some of which I reproduce here. I will discuss these and also will transcribe them to make it possible for search engines to find the text.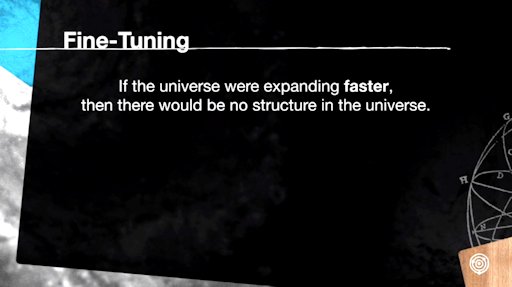 Fine-Tuning

If the universe were expanding faster, then there would be no structure in the universe.
He imagines how, in a science fiction world, this might be portrayed. A space traveler comes across the Universe control room, and there are all these knobs that have to be set just so. Else calamity.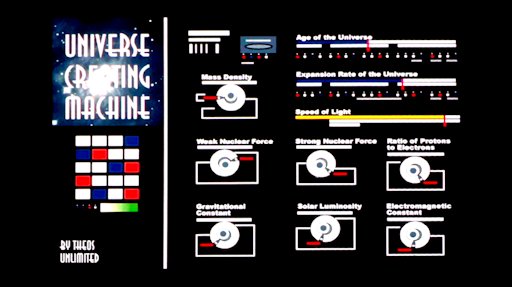 He speaks of the argument for design, explained in depth in a book by William Dembski, a fellow at the Discovery Institute.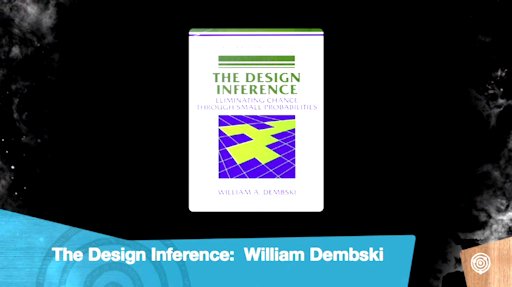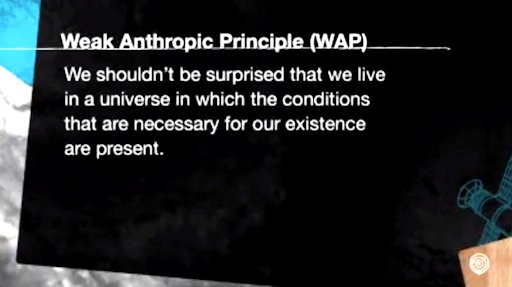 There is a discussion of  the Weak Anthropic Principle.
Weak Anthropic Principle (WAP)

We shouldn't be surprised that we live in a universe in which the conditions that are necessary for our existence are present.
Meyer is dismissive of the WAP, illustrating it with a supposed fire investigation scenario. The investigator comes back and says there was a fire because of oxygen in the atmosphere. Not much of an explanation. From all appearances this is an illustration that was poorly constructed by design. I have long had my own illustration of the WAP.
We see an explorer in the Amazon Basin, and he is at a boat landing at the very head of one of the river's tributaries. He has no way to get home. A boat he was not expecting arrives to rescue him, and he remarks, "Out of all the possibilities, out of all the branches you took, you chose just the ones to get you to me."

Then my imagined scene zooms out, and we see the entire Amazon Basin, and at the head of each of the thousands of tributaries there is an explorer waiting for a boat to arrive, but there is only one boat, and it has arrived at the one landing just described. How lucky is the explorer? Very. How improbable is it that somebody was rescued? Not so improbable. Meyer could benefit from deeper thinking.
Meyer quotes from an item that appeared in the London Times:
Anthropic Fine-Tuning Principle

"No such argument can ever be absolutely conclusive, and the anthropic fine-tuning argument stops just short of knock-down proof. For there could've been millions and millions of different universes created each with different settings,  of the fundamental ratios and constants, so many in fact that one with the right set was eventually bound to turn up by sheer chance. We just happened to be the lucky ones. But there is no evidence of such a theory what-so-ever.
And there is more, for which you will need to view the video or else send me a note.
I was particularly intrigued by the last sentence quoted above, "But there is no evidence of such a theory what-so-ever." I am not sure what the writer meant by no evidence for this theory. Does he mean to say there is a theory, but the theory has no evidence to back it up? Or does he mean there is no evidence such a theory exists? Let's assume the former, because, if the latter, then there is evidence such a theory exists, because I just now proposed such a theory, and my proposal for such a theory is evidence the theory exists.
Graciously accepting the first of the two, then the statement is equally amazing. Accepting there is no evidence supporting such a theory, then where does that leave the writer, who continues and states, "On the other hand the evidence for the truth of the anthropic fine-tuning argument is of such a certainty that in any other sphere of science we would regard it as absolutely settled?" From all appearances it leaves the Times writer having made a bald statement with as much evidence as the WAP. None.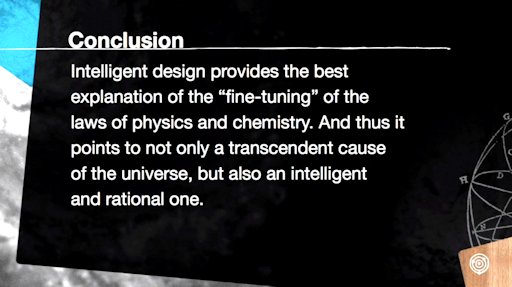 Meyer wraps it up:
Conclusion

Intelligent design provides the best explanation of the "fine-tuning" of  the laws of physics and chemistry. And thus it points to not only a transcendent cause of the universe, but also an intelligent and rational one.
No, it does not.
First, Intelligent Design does not resolve anything. Meyer can say Intelligent Design is the theory with the fewest assumptions (Occam's Razor). It certainly does have the fewest of all assumptions. "God did it." Can't get much simpler than that.
The problem with "God did it" is that it does not have much going for it. A theory with as little basis of evidence is going to be hard put to compete with theories of equal simplicity and equal basis. For example, this one: "I did it."
There is no basis to believe I did it, putting my theory on an equal footing with "God did it."
There's more. "God did it," in truth, carries the same baggage as naturalistic proposals. It does not account for the much-publicized specificity of the Universe, including human life and all other life on the planet. If "God did it," then God must have had all that specificity and design built in before, and where did that come from? Of course, this is an ancient response to an ancient postulation, but it now possesses a remarkable irony. Since its formation 30 years ago, Intelligent Design has adopted an  argument that challenges the originality of God.
Meyer invokes William Dembski, who frequently invokes Kolmogorov complexity to demonstrate that specifically complex things cannot derive from less complex things. For example, in his book Intelligent Design: The Bridge Between Science & Theology, Dembski invokes Kolmogorov on page 159:
It is CSI on which David Chalmers hopes to base a comprehensive theory of human consciousness. It is CSI that within the Kolmogorov-Chaitin theory of algorithmic information identifies the highly-compressible, nonrandom strings of digits. How CSI gets from an organism's environment into an organism's genome is one of the long-standing question addressed by the Santa Fe Institute.
CSI, for Dembski, translates as Complex Specified Information. That is the very thing that Meyer is considering when he speaks of needing  Intelligent Design to provide explanations.
Meyer cites enormous improbabilities in arguing against the WAP. These are improbabilities that amount to impossibilities. In a finite Universe. If a person wants to wax philosophical, then before the Big Bang, when time did not exist, then all things were possible. Does somebody want to discuss that?
Episode 5 has the title "DNA by Design," and we can presume Meyer is going to argue that DNA is evidence of design, just as he did in his book, Signature in the Cell.
Much is promised for this book. It's supposed to set us straight about the basis for Intelligent Design and to make the case, using the story of DNA, for Intelligent Design. Once again, I will let Amazon do the talking:

Signature in the Cell is the first book to make a comprehensive case for intelligent design based upon DNA. Meyer embarks on an odyssey of discovery as he investigates current evolutionary theories and the evidence that ultimately led him to affirm intelligent design. Clearly defining what ID is and is not, Meyer shows that the argument for intelligent design is not based on ignorance or "giving up on science," but instead upon our growing scientific knowledge of the information stored in the cell.
The video series, which is currently streaming on Amazon Prime Video, has this to say about Episode 5:
The Question of design is a critical worldview-shaping paradox. If biology points us to the appearance of design, then what are we to make of it? Can we attribute this to natural selection or was there an Intelligent Designer?
Watch for a review later this week.